Lipid signalling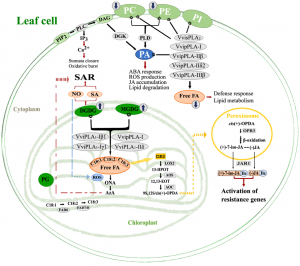 Fatty acids (FAs) and fatty acid-derived metabolites are major structural and metabolic constituents of the cell. Apart from that, they also function as modulators of a multitude of signal transduction pathways evoked by biotic stresses. Emerging evidence identifies lipids (e.g. sphingolipids) as:
regulators of signal transducing molecules or transcription factors;

regulators of cell survival;

and plant cell death (PCD).
Besides, it has been recently proposed that specific fatty acids may be involved in plant resistance against pathogens with different colonisation strategies (biotroph, hemibiotroph and necrotroph). Grapevine (Vitis spp.), is prone to several diseases and fungal-associated ones are major threats to modern viticulture. Previous works from our group have shown that the content of several fatty acids (e.g. C18:1, C18:3) suffers alterations after inoculation with the biotrophic oomycete Plasmopara viticola. Also, these alterations are linked with reactive oxygen species (ROS) and jasmonic acid (JA) associated signalling. Our main objective is to characterise the role of FA in grapevine defence against fungal pathogens with different colonisation strategies and to study FA association with phytohormones mediated signalling. We also aim to find lipids and proteins that work as molecular markers for resistance/susceptibility to fungal pathogens.